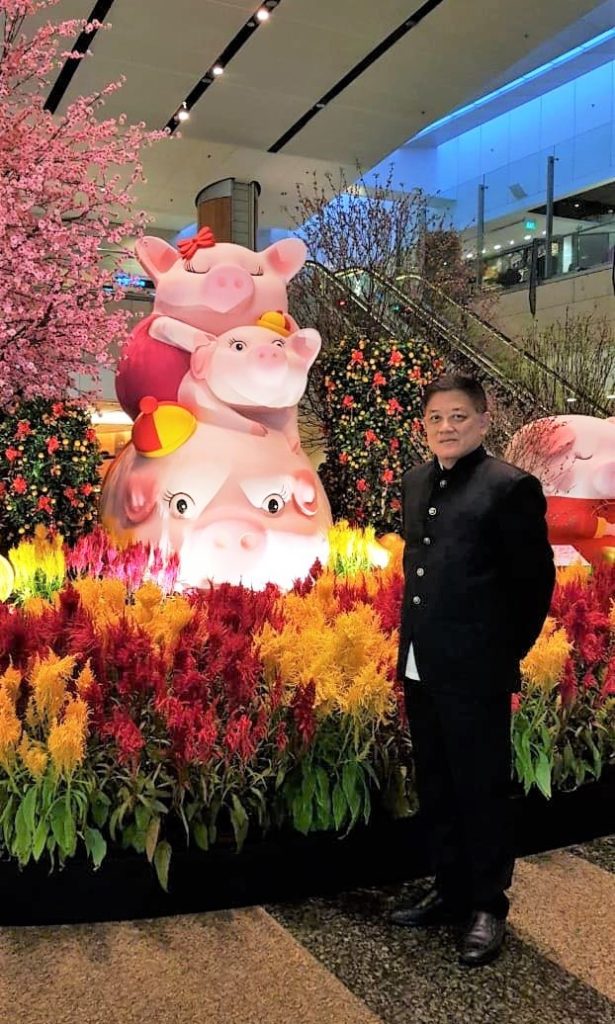 Nicholas Koh (Dr.Eng Honoris Causa)
Mr. Nicholas Koh joined the Republic of Singapore Navy (RSN) in 1981 after completing his Diploma in Marine Engineering with a year of cadet engineer training onboard M/V TFL Enterprise. Nicholas was awarded the Defence Technology Training Award, Ministry of Defence, and graduated with a Bachelor (Hons) First Class in Marine Technology from the University of Newcastle upon Tyne, UK in 1992. As the top student, he was also awarded the Weighton Medal and Institute of Marine Engineers' Book Prize. He attained his Master of Public Administration from the University of Liverpool, UK in 1998.
He took early retirement from the Republic of Singapore Navy to pursue a commercial career in 2002 as Vice President Defence Business, ST Engineering Corporate HQ. His appointments in the Republic of Singapore Navy include Head Naval Engineering, Head Marine Engineer, Commanding Officer of Tuas Maintenance Base, and Deputy Head Naval Logistics (Ship Systems), holding the rank of Lieutenant Colonel (LTC).
In early 2003, he decided to start up his own company and founded Victory Knights Management and Consultancy Services Pte Ltd (VKMCS), to focus on education, marine, and dual-use technologies. In October 2005, he co-founded, the "Seven Seas Victory Knights Technologies" Division under the Seven Seas Group of Companies in the Sultanate of Oman, Middle East, which began operations in December 2005. SSVKT was spun off into a full-fledged company (1st Class) in 2007 as Seven Seas Victory Knights Co., LLC (SSVKC) and upgraded to an "Excellent Grade" company in 2012. In 2023, Nicholas was respectfully conferred the Doctor of Engineering honorary degree by Newcastle University, the UK.
Nicholas' forte is in Strategic Thinking and the Development of Solutions through Masterplanning. Over the years, he sets long-term growth strategies and spearheads growth initiatives to expand resources and develops new markets around the regions of Asia-Pacific and the Middle East. He has a strong belief that the programs in the Middle East can greatly benefit from the talent pool of Singaporeans who are professionals in their own rights. These professionals and veterans can truly play their crucial roles in the growth paths of Transocean Fortune Integrator Pte. Ltd, which shall be the great enterprise to take this forward, in various programs that she embarks upon with her strategic projects such as water, medical, fisheries, agriculture etc.
Nicholas' leadership, and his understanding of local culture and regulatory framework, good human relations, knowledge and experiences in the Middle East shall provide an excellent bedrock from which the programs and endeavours can flourish.
OTHER APPOINTMENT
AUTHORED WORKS
ACHIEVEMENTS AND HONORS
Chief Executive Officer – Victory Knights Management and Consultancy Services Pte. Ltd.

Dr.Eng (Honoris Causa) awarded by Newcastle University, UK (2023)

Advisor (Singapore Chapter) to Asia Pacific Trade & Promotion Investment Association

Hall of Fame, British Council Alumni

Former Chairman Awareness Committee – Society of Naval Architects & Marine Engineers, Singapore (SNAMES)

Former Vice Chairman RINA & IMarEST Joint Branch Singapore

Former Council Member Institute of Shipping Management